Name - Drew Hunton
Age - 15/ Birthday: December 17
Where from - Lacon, Illinois
Clothes - He wears a black pair of converse shoes. Wears a red t-shirt with a gray hoodie over it. Brown pants that have many pockets (2 at top, 2 in back, and 2 down by the knees that are hands length deep). Wears a brown belt. The only thing that really changes when Drew goes into the Digital World is that dark purple flames appear on his grey hoodie. They go around the entire hoodie near the waist line and stretch to about 3inches upwards.
Outlook - hazel eyes, brown and blondish hair that is medium length that comes down behind the ears and jaw bone.
Character - Drew is an average guy. His house is surrounded by fields and he has farm animals(chickens, sheep, llama, dog, cats). Though he might be an average guy he is kind of shy. Yet when he was with his friends he was very outgoing and loves to help them out. But there is a slight dark side to him that nobody, possibly himself, doesn't even know about. Many of his friends still like digimon, but they wouldn't tell others about it. Drew is about the only one who tells people that he still likes digimon and stuff. He doesn't care what other people think of him, because he knows who he is and what he likes. Digimon were real to him, though this he told no one about. This is one of the things that he knew if it got out he would be the laughing stock or crazy kid of the year. Though he did try to tell some of his friends they just laughed and said "You're one crazy person," and left it at that. So he just kept watching the shows and collected a few cards, mostly his favorites, and kept his thought alive that digimon were real. But sometimes he doubted even himself. He always snapped out of it and reminded himself that dreams can come true if you just keep it alive and going.
Digivice - third season (compass, positioning, card reader, digimon library, digiport). The digivice's main color is dark purple. White is around the screen, while the buttons are a bright red color.
Additional - cell phone, I-pod, notebook and pencil, some cards.
Partner -
Fresh
- Jarimon
Attack-Pyro Bubbles
In-Training
- Gigimon
Attacks- Hot Bite
Rookie
- BlackGuilmon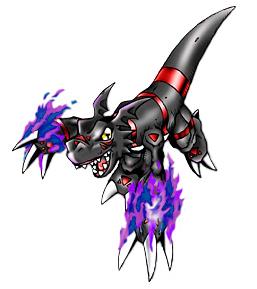 Attacks- Pyro Grenade: resembles (regular) Guilmon's "Pyro Sphere" attack only with a dark purple sphere and not as much distance. Can be controlled to set off at a give time or location by BlackGuilmon
Virus Breath: BlackGuilmon blasts out a dark purple, virus-infected blast from his mouth
Rock Crusher: A deadly slash attack accompanied by a dark thrash of energy. As he comes in contact with the ground a small shock wave can be felt
Champion
- BlackGrowlmon
Attacks- Exhaust Flames: Unleashes a stream of highly hot purple flames from his mouth
Plasma Blade: Attacks enemies with the blades on his arms. Most effective when he spins in a circle and hit's the enemy three times. The blades turn to a deep purple color and then are electrified for more damage
Dragon Slash: Slashes enemies with his claws. Usually likes to use it as an uppercut punch
Ultimate
- BlackWargrowlmon
Attacks- Atomic Blaster: Fires a strong energy beam from the two emitters on his chest. Instead of being a blue beam, it is purple.
Double Blades: Energizes the blades on his forearms and uses them to cut through enemies. They glow with a light tinge of purple and, like Plasma Blade, are giving an additive effect of electricity.
Mega(Biomerge)
- ChaosGallantmon
Attacks- Demon's Disaster: Consecutive attacks with his lance Balmunc.
Gallant Charge: Brings energy forth onto the tip of his lance and charges at the enemy with it.
Spiral Wailer: Energy circles around to the tip of ChaosGallantmon's lance. He attacks his enemy by then throwing them into the air and thrusting the 'Spiraling' energy at the enemy.
Mega(Matrix Digivolution)
- Megidramon
Attacks-Megid Flame:
Dragon Howling:
About Partner - BlackGuilmon is the complete opposite of Drew. He is always out going and wants to do many things in a short amount of time. He has a very bad temper and in a fight it's very hard to call him off. Most of the time he always asks Drew to go to the Digital World. But sometimes BlackGuilmon can be patient and nice. Sometimes its hard to see who is training who. Is it Drew taming BlackGuilmon or is it BlackGuilmon taming Drew? This is because some of BlackGuilmons personality runs off on Drew.
Digital forms - Fresh, In Training, Rookie, Champion, Ultimate, Mega (Matrix Digivolution)
History - It was an odd way how BlackGuilmon and Drew met. Drew was messing around on the internet looking up stuff and doing random things. He looked up a couple pictures and information about Digimon and how possibly they could become real. A thunderstorm was brewing outside while he was doing this. This thunderstorm was different from other storms. It was in fact a digital storm. A lightning bolt struck his house causing the lights to flicker. When his screen popped back up Drew was shocked. A digiport was on his screen. But he didn't know why or how. Just then another bolt hit in his pasture a little ways from the house. He looked out his window and saw a light purple glow from where the bolt had struck. Silently he went outside so that he wouldn't wake his parents. It was pouring out and by the time he reached the spot he was soaked. Where the bolt had struck there was a small crater. The purple light surrounded it circling it. The light circled it as the Earth would orbit the Sun. But instead of just circling it was coming together in the center. And what formed before Drew's eyes was astounding! A dark purple egg with bright red flames around it center was there before him. Drew looked around before picking it up and ran towards his house. He knew what it was. A digiegg.
After that day he told nobody about it. The egg had hatched into Jarimon and digivolved to Gigimon . On the day that it hatched he received his digivice. It appeared right on top of Jarimons head. This was the most exciting day of his life. Digimon were real! Drew couldn't wait for Gigimon to digivolve to his rookie form. Two days later BlackGuilmon had come. Gigimon had digivolved. This was the best and worst day of Drews life. He was happy that Gigimon had digivolved, but worried that training BlackGuilmon would be tougher then imagined.